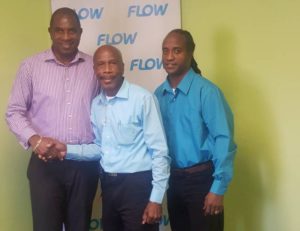 As part of the Dominica Calypso Association 2017 carnival calypso season its financial budget is richer with the leading Telecommunications provider on Dominica and the headline sponsor to "The Real Mas-Dominik Ki Dou", contributing some $75,000 as the new season opened.
General Manager of Flow Dominica, Jeffrey Baptiste said that the annual contribution to the Dominica Calypso Association signals the telecommunication's interest in the development of the Calypso art form on the island.
"This year we are delighted to pledge $75,000 towards the staging of the 2017 Calypso competitions which form an integral part of the Carnival season here in Dominica. We are always happy to invest our resources towards various aspects of our culture and our long-standing support to the calypso association is not only resources put towards their various events but an investment towards the improvement and development of the calypso art from in Dominica."
http://www.youtube.com/watch?v=LLl8wgnl294
The Dominica Calypso Association stages four main shows during the carnival season; eliminations-completed, quarterfinals, semi-finals and, both to be staged at the Newtown Savannah and the grand final scheduled to be held at the Potterville Savannah on the outskirts of the capital city, Roseau.
Marketing lead at Flow Dominica, Kareem Guiste, says customers will get opportunities to win free tickets for each of the upcoming event scheduled by the association.
"As customary, our customers and customers in waiting will get every opportunity to win tickets to attend all the shows scheduled this carnival. We are simply asking customers to topup $20 or more for their chance to win FREE tickets to any of the event put on by the Dominica Calypso Association."
Source: Dominica Vibes
Contribution to the art form can start from a very your age in the Caribbean.
JEROMY "Doh Take Me"
[youtube https://www.youtube.com/watch?v=OKFWGo271q8]
Dominica Calypso Association 2017 carnival calypso season
g